No Unfunny Irish Need Apply
Not content with taking our land and our women for 800 years, the Brits are now trying to claim our dead humourists. Last month, the British media heralded the publication of a poll listing the UK's greatest wit of all time. According to "3,000 comedy fans", the wittiest Brit ever is... Oscar Wilde. Second on the list was Spike Milligan – also Irish. Third was Stephen Fry, who is admittedly English, but whose primary contribution to humour was cited as a remark he allegedly made to airport Customs officials: "I have nothing to declare but my genius". So the Brits are stealing our bon mots as well.
The British claiming Oscar Wilde is as absurd as the Soviets claiming Vaclav Havel. Wilde was one of our greatest nationalist heroes. Unfortunately, as Declan Kiberd has noted, many people – on both islands – regard Wilde as "an Irishman who turned himself into an Englishman as fast as he could". This is a complete travesty.
First, the facts: Wilde only ever referred to himself as Irish or Celtic. At Oxford, he made a point of taking up several lines in the student register by signing his name "Oscar William Wills O'Flaherty Wilde". In London, he swapped first editions of his plays with fellow Irish wit George Bernard Shaw (long before the latter was successful) inscribing them as works in the 'Hiberno-London' school. Wilde was a strong supporter of Charles Stewart Parnell, whose tragic downfall prefigured his own. On his death-bed in 1900, in addition to complaining about "dying beyond my means" and insisting "either that wallpaper goes or I do", Wilde observed "if I were to outlive the century, it would be more than the English could stand."
This was no empty one-liner. Wilde's dramas, most notably The Importance of Being Ernest, ridiculed everything which Victorian England held dear: marriage, masculinity, polite society, baptism… even cucumber sandwiches. The bitterness which Wilde's work provoked in British audiences was recorded by Shaw: "They laugh angrily at his epigrams, like a child who is coaxed into being amused in the very act of setting up a yell of rage and agony. They protest that the trick is obvious, and that such epigrams can be turned out by the score by anyone light-minded enough to condescend to such frivolity. As far as I can ascertain, I am the only person in London who cannot sit down and write an Oscar Wilde play at will."
To a modern audience, Wilde's plays may seem like slight comedies-of-manners punctuated by quaint, over-quoted, quips. Their full subversive impact can only be understood in the context of the time.
In the late 19th century, the Irish were routinely portrayed in the British popular press as a simian-like race of alcoholic brutes, incapable of polysyllabic conversation, let alone self-government. Overtly racist language and imagery were used to deny Home Rule and justify the continued British subjugation of Ireland.
Into this charged environment entered Oscar Wilde – a precocious Irishman who was indisputably the cleverest, most sophisticated and most fashionable man in Britain. What more eloquent and civilised refutation could there be to the litany of ridiculous prejudices about the Irish? Imagine for a moment if the most successful, stylish and sarcastic comedian in the world today were a Muslim, performing material about the absurdity of Western values. Think of the ructions such an individual would cause (to say nothing of the shockwave that would hit if he turned out to be gay).
Spike Milligan has no such claims to nationalist trailblazing. In fact, compared to Wilde, he might seem like someone whom the Brits can legitimately call their own. Spike's father served with the British Army in Southeast Asia. Spike was born to an English mother, and grew up, under the British Raj (in what is now India and Burma). When World War II came along, he followed his father by enlisting in the British Army, an experience he later immortalised in his memoir Adolf Hitler: My Part in His Downfall.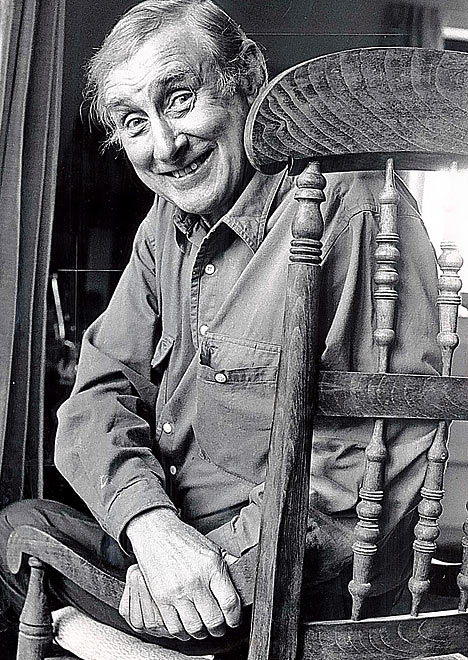 Surely all this makes Milligan British? Not according to the British government of the day. In 1960, Former Lance Bombardier Milligan was refused a British passport, because he had been born outside Britain, to an Irish father. Neither his English mother, nor his military service were considered. Refusing to take an oath of allegiance to the British monarchy (he famously referred to Prince Charles as a "grovelling little bastard") Spike applied for Irish citizenship and retained it all his life.
Oscar Wilde once commented that the only duty we owe to history is to completely rewrite it. I disagree. Recent generations on these islands have finally put aside their long-standing differences. But this new era of co-operation will not be helped by forgetting the past, but rather by remembering just how dysfunctional our relationship used to be. This year marks the 50th anniversary of the Treaty of Rome. In the last half-century, the European Union has been held together through every crises by the memory of just how catastrophic World War II was. It's a model we should learn from.
And if the Brits are really serious about reconciliation for past mistreatment, they could start by adopting Brendan O'Carroll.